Two cast brass burners (total 50,000 BTUs)

685-sq.-in. cooking surface (470 primary, 215 secondary)

Halogen grill surface light

Temperature gauge

Fluid rotation handle

Lynx Hood Assist Kit

Removable large-capacity smoker box

Stainless steel grilling grates

Ceramic Briquettes facilitate even radiant heat distribution

Heavy-duty welded construction eliminates gaps where grease and moisture can collect
With over 30 years of experience, Lynx Professional Grills has prided itself on being the model of engineering excellence. Manufactured in California and made from the highest quality materials, its 'California Grill 'and accoutrements offer superb quality and durability as well as great design and finish so you can build your dream outdoor kitchen with their complete line of outdoor cooking products.
The California Grill by Lynx built-in grill is the centre of your outdoor kitchen. Choose from mulitple sizes and features to start on your outdoor entertaining adventure.
Three cast brass burners (total 75,000 BTUs)
935-sq.-in. cooking surface (640 primary, 295 secondary)

Dual halogen grill surface lights

Temperature gauge

Fluid rotation handle

Lynx Hood Assist Kit

Removable large-capacity smoker box

Stainless steel grilling grates

Dual-position internal rotisserie with heavy-duty, 3-speed motor and rear infrared burner

Ceramic Briquettes facilitate even radiant heat distribution
Two cast brass burners and one ProSear Burner (total 75,000 BTUs)

935-sq.-in. cooking surface (640 primary, 295 secondary)

Hot surface ignition system

Control illumination with blue LEDs

Dual halogen grill surface lights

Heat stabilizing design

Temperature gauge

Fluid rotation handle

Lynx Hood Assist Kit

Removable large-capacity smoker box

Stainless steel grilling grates

Dual-position internal rotisserie with heavy-duty, 3-speed motor and rear infrared burner

Ceramic Briquettes facilitate even radiant heat distribution

Heavy-duty welded construction eliminates gaps where grease and moisture can collect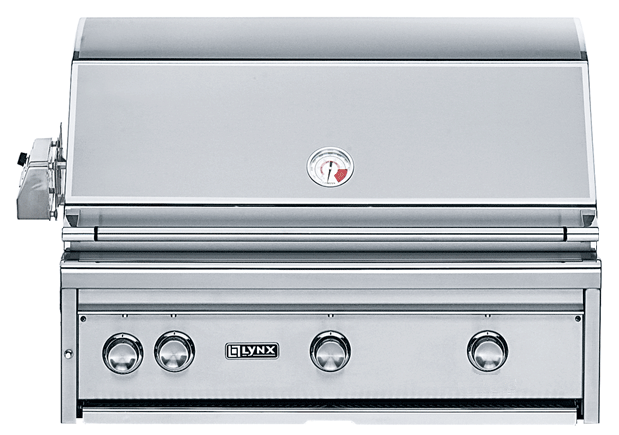 Two cast brass burners and one ProSear Burner (total 75,000 BTUs)

1200-sq.-in. cooking surface (855 primary, 345 secondary)

Hot surface ignition system

Control illumination with blue LEDs

Dual halogen grill surface lights

Heat stabilizing design

Temperature gauge

Fluid rotation handle

Lynx Hood Assist Kit

Removable large-capacity smoker box

Stainless steel grilling grates

Dual-position internal rotisserie with heavy-duty, 3-speed motor and rear infrared burner

Ceramic Briquettes facilitate even radiant heat distribution

Heavy-duty welded construction eliminates gaps where grease and moisture can collect